Welcome to your college connection
It's never too soon to start thinking about college and your future!
You're a solid investment. A college education is an investment in your future. Fortunately, financial aid is available to help almost everyone manage the cost. Oklahoma offers students some of the most affordable public and private institutions in the country with nationally-recognized programs. Check out the following resources for information about developing your plan for college.
---
UCanGo2.org
UCanGo2 helps students and families prepare, plan and pay for education after high school, whether at a college, university, trade school or technology center. Check out UCanGo2.org to get free tools and resources for students and parents that can be downloaded directly from this site.
---
OKcollegestart.org
OKcollegestart.org is Oklahoma's one-stop shop for college planning and offers online college applications, financial aid resources, and career exploration and planning tools.
---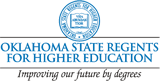 Student Information Hotline
To access information about financial aid, admission requirements, placement scores and more, call 800.858.1840 or 405.225.929 or email StudentInfo@osrhe.edu.
---
Oklahoma GEAR UP
Check out GEAR UP Guides for Parents, offering information about preparing kids for college, courses required for college entry and college costs. Call 800.858.1840 or visit OkHigherEd.org/gearup.
---
Oklahoma Money Matters (OKMM)
Oklahoma Money Matters provides information and resources to help youth and adults successfully manage personal finances, understand consumer credit and navigate the financial aid process.
---
Oklahoma's Promise
Oklahoma's Promise is a scholarship for Oklahoma residents who complete a specific high school curriculum, achieve at least a 2.5 GPA in the curriculum and abide by certain conduct standards. Students must apply for the program during the 8th, 9th or 10th grade and family income may not exceed $50,000 at the time of application. Learn more at OkPromise.org.
---
Choose Oklahoma!
This site is provided by the Oklahoma College Assistance Program (OCAP), an operating division of the Oklahoma State Regents for Higher Education. OCAP provides college access, aid awareness, financial literacy and debt management programs and services to help students and parents plan, prepare and pay for education after high school.
Assistance for the site is provided by the National Council of Higher Education Resources, Inc. (NCHER).